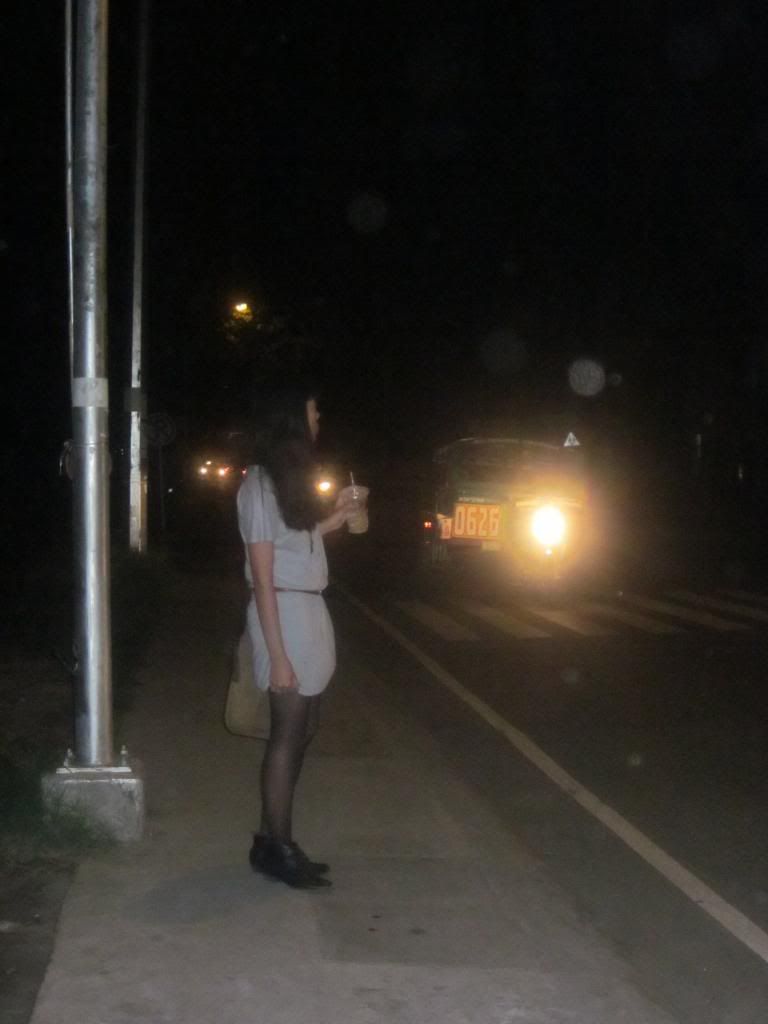 An accurate description of my 2-week-blogosphere absence in a nutshell. Absence may have been longer than that, however. This one includes almost a week spent at home doing practically nothing besides experimenting with stuff in between attending family events that was primary focus at that time. I should have been reading and catching up with school work instead I waste a ton of time doing zilch, all things irrelevant---bunny ears diy included.
First time I brought out the oversized plaid shirt (obviously a men's kind of shirt) two nights ago and I ended up sleeping in it. Falling in love with the extreme comfort oversized stuff more and more and more now. A lot of my recent acquisitions, thrifted mostly, are going that way I don't think I feel even sorry for myself. My tights obsession has just sky-rocketed but maybe it's because it's technically borderline fall-winter in some parts of the world and it's definitely getting colder at night here. I plan to acquire some knee-high, thigh-high, over-the-knees stuff in the near future. Havoc will be sought everywhere the minute I get my hands on any of their kind. This is how I'm becoming more and more Parisienne chic au naturale (awkward phrasing, it's an attempt that remains still awkward)...and would legitimately be one...in my very, very distant dreams.
And some random thing done with the hair yesterday in addition to diy-ing my own dry shampoo. Not going to waste money buying something that might not otherwise fit with my hair well at the moment. Probably at least until I can afford them but otherwise, DIY stuff is practical for me most of the time and they're not hazardous to the health which is something I really like about them.
(my instagram photos c/o tumblr)
On the school front, I need to finish a ton of readings and papers today. Doubt there's something of utter importance I need to do outside of anything else but books and short stories to read and write reports on so I might as well stay in until at least lunch time or something. Part of the reason why I wasn't around for awhile in the blogosphere is my laptop dying on me. It's all fixed now although I doubt 1,500 Php is justifiable price enough for the little repairs this one seemed to require. They never did send me any text message saying it could be claimed already or not apart from that they sent asking for my password.
Taking late lunch/breakfast at 1 in the afternoon. Perfect. I'm not going out to get notes until around 2:30 or 3:30 in the afternoon so I'm going to drown in Joseph Conrad's The Heart of Darkness followed by short stories for tomorrow's reports and a few others. Booksale fun yesterday was, well, fun. I meant to go there to look for something for my Southeast Asian Literature class---seminar paper---but I ended up with one for that and Patti Smith's Just Kids. I've been stalking this autobiographical book since coming across a post on it on Freepeople's blog.
Anyway, off I go to read a bit and perhaps start on some papers then whatever else is up today.